We're sorry, but all tickets sales have ended because the event is expired.
10th Annual SC/AD Conference


July 15, 2016 - July 16, 2016




12:00 pm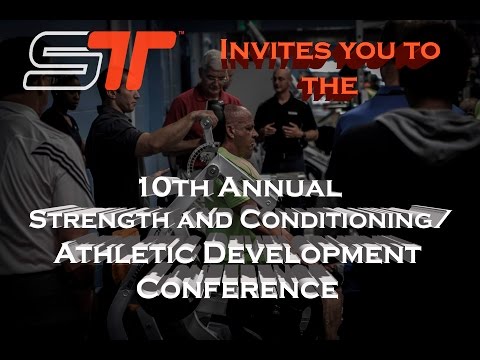 Former and current NFL and MLB strength coaches, NCAA and NIT champions, NSCA and NCAA conference professional of the year award finalists and winners, master strength and conditioning coaches, international experience, leading high school consultants, personal trainers, nutritionists, psychologists and coaches have all made the starting line-up throughout years. With discussion and hands-on/from-the-field learning opportunities, several organizations have recognized this conference as an approved CEU opportunity. Everyone interested in athletics, strength and conditioning, rehabilitation, and the fitness industry can benefit from the information that will be shared at this year's conference.
MESSAGE FROM COACH TAYLOR: The SC/AD Conference in 2016 will be an event you won't want to miss. TEN YEARS in the making! I can't wait to share this weekend with you. This will be our biggest event in STT history to date. Be prepared for a party this conference has yet to experience!
The 10th Annual SC/AD Conference CEUs will be 1.2 NSCA, 6.75 CSCCa, and 12 NSPA.
Proposed itinerary for Friday, July 15, 2016 (Subject to change):
3:-3:30 pm Registration / Check-In
4:15-4:30 pm Opening Remarks – Mike Whitman, Director of Training for STT
4:30-5:25 pm "Effective Movement Strategies to Maximize Performance"
Bryan Miller, Assistant S&C Coach for the United States Naval Academy
5:30-5:55 pm "Understanding Your Why"
Kip Fulks, Co-Founder and current CMO of Under Armour
6:00-6:55 pm "Assessing and Developing Athlete Buy-In And Commitment"
Matthew Nein, Coordinator of Sports Performance at Salisbury University
7:00-7:55 pm "Implementing A Head, Neck And Upper Back Program"
Rick Court, Assistant AD/Head Football Sports Performance At The University Of Maryland
8:00-8:45 pm Power Hour: Branding, Business Development, Web Design And Social Media
8:00-8:30 pm Beverages Provided By NutraBio and light fare will be available
Proposed itinerary for Saturday, July 16, 2016 (Subject to change):
6:00-7:30 am Early Bird Training Session – Learn-By-Doing/Learn-By-Watching
Guest coaches for the Early Bird Training Session from Rogers Athletic (Gabe Harrington), Pit Shark (Rick Hoole), Iron Grip (Michael Rojas, Co-CEO of Iron Grip), Eleiko (David Weber), RP Sports (Keith Garnett), and more will be here to teach, share, and learn from you.
7:00-8:15a Registration / Check-In – Coffee Will Be Provided By Sunniva Caffe (Jim DeCicco)
7:50-8:00a Welcome and the "Kick Off"
8:00-9:15a "Sharpen Your Mental-Game To Enhance Your Physical Game"
Stu Singer, Founder and Owner of Well Performance Coach
Patrick Estes, Assistant Director of Basketball Performance At University of Maryland
9:20-10:15a "Strength Training And Programing For The Complete Athlete"
Ron McKeefery, Head Strength and Conditioning Coach at Eastern Michigan University
10:20-11:15a "Programming the Olympic Lifts for the Collegiate Athlete"
Brian Amenta, Director of Strength & Conditioning at University of Maryland Baltimore County
11:20a – 12:15p "Supplement Industry Insights"
Mark Glazier, CEO of NutraBio
12:15 – 1:00p "Round Table" for Questions and Discussion – Participation required. This section of the event will allow for questions, provide advice, suggestions, and guidance where applicable. Lunch Provided By Texas Roadhouse White Marsh And Sponsored By LifeMed Institute. Drinks Provided By NutraBio
1:00-1:55p "Developing Your Athletes From Grip To Ripped"
Doug Scott, Head Strength and Conditioning Coach for The Pingry School
2:00-2:55 pm "Training The Injured Athlete: There Is No Box"
Ted Rath, Assistant Strength and Conditioning Coach for the Miami Dolphins
3:00-3:55 pm "Plan To Adapt: Working With The Multi-Sport Youth Athlete"
Robert Taylor, Jr., Founder and Owner of SMARTER Team Training
4:00 pm Closing comments.
4:30-6 pm STT Conference Social – More info to come!
You can pick up your CEU's at the completion of the conference (4p) where you registered by handing in your evaluation sheets of the sessions you attended. CEU's will not be handed out prior to the end of the conference as directed by the certifying organizations.
"Mail-in" registration information, pre-registration waivers, etc. COMING SOON!
Refund Policy: Register on or before Friday, June 10 – 50%. After June 10, there is no refund.
For additional information, email Coach Taylor at [email protected].
Address:
STT Performance Center at Round 3 Fitness
15 W Aylesbury Road
Timonium, MD 21093, USA
STT would like to thank the following for their support of this event: Rogers Athletic, Pit Shark, Iron Grip, Recovery Pump, VersaClimber, Elite Form, Eleiko, Rumble Roller, Human Kinetics, Fat Gripz, Lock Jaw Collars, Hand Armor Liquid Chalk, and the many other sponsors for each of these events. Please connect with them on Facebook, Twitter and Instagram.